About Smilin Dogs

Smilin Dogs was founded in 2000, at first just offering our hiking service. In 2007 we opened our current facility in San Carlos which offers daycare, boarding and chauffeur service.
Mary – General Manager
Mary started working at Smilin Dogs as a hiker in January 2013. She volunteered for a couple of years at the Monterey Bay Aquarium primarily in the Aviary department. Previously she worked in the customer service industry as an assistant restaurant manager, server & bartender but knew her true calling was working with animals. When she is not at work you can find her cooking up some kind of elaborate meal or exploring all of the wonderful Nor Cal hiking trails.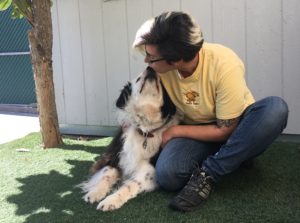 Montana – Assistant Manager
Montana is a Seattle native who has been working with dogs since 2010. He attended DTIA (Dog Training Internship Academy) and has been at Smilin Dogs since 2013. His dog Napoleon is a regular at Smilin Dogs and Is considered the (un)official mascot. Napoleon's hobbies include barking at airplanes and glamming it up for his up and coming Instagram career. When Montana isn't working, you can find him volunteering at a local livestock sanctuary or catching up on some good podcasts.
Joe – Assistant Manager
A Nor Cal native Joe has been working with dogs for 7 years and he is certified in pet CPR & pet first aid. He is currently (fall 2018) enrolled in DTIA (Dog Training Internship Academy) Joe does not currently have a dog but has a pigeon named Maggie Jr who has excellent recall and hates French fries. He is an avid Frisbee golf player and dreams of one day owning a dog who he can share his Frisbee obsession with. He has been with us since 2017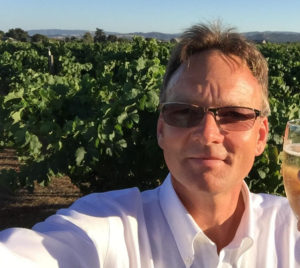 Konrad – Owner
Since 2000 Konrad Thaler together with Diana Ungersma have built Smilin Dogs.
As an eternal optimist he sees the good in everybody and as an entrepreneur he sees opportunity for growth everywhere. Coming from a small Bavarian village with strong traditions and family values, he is extremely passionate about everything farming, dog and bee related. He has two children and is very involved with their education at Peninsula School, a small progressive school in Menlo Park. He is a visionary and leader but also feels comfortable being taught by others with more experience and wisdom.
Diana- Owner
Prior to founding Smilin Dogs, Diana spent 12 years working in product management and marketing in Silicon Valley startups. She holds a bachelor's degree from the California Polytechnic State University. She is the parent of two children. In her spare time, she volunteers as a mentor in entrepreneurship for at-risk high schoolers through BUILD and is Treasurer on the Board of Directors for Athena Academy. She enjoys dancing, yoga and trying to make a round pot on the pottery wheel.